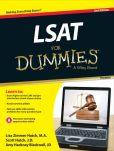 The Law School Admission Test (LSAT) is a half-day, standardized test administered four times each year at designated testing centers throughout the world. The test is an integral part of the law school admission process in the United States, Canada, and a growing number of other countries. It provides a standard measure of acquired reading and verbal reasoning skills that law schools can use as one of several factors in assessing applicants.

The test consists of five 35-minute sections of multiple-choice questions. Four of the five sections contribute to the test taker's score. The unscored section, commonly referred to as the variable section, typically is used to pretest new test questions or to preequate new test forms. The placement of this section will vary. A 35-minute writing sample is administered at the end of the test. LSAC does not score the writing sample, but copies of the writing sample are sent to all law schools to which you apply.
Global baseline (GBL) is an institution with a reputation for excellent teaching and preparing students to make a profound positive difference in the world. Our teachers are experienced in their respective fields and not SHS graduates as used by other institutions.
Global base line offers a better LSAT experience that is both challenging and fun. You will learn from teachers who are experts in their fields, and you'll thrive with thought-provoking classes, a tech-infused learning environment, a state-of-the-art Tablet PC and ample inspiration. It's all part of a GBL education.

GBL is affordable, too! Reasonably priced tuition and a competitive scholarship and financial aid program make GBL an outstanding value - not something you would expect from a leading, high-tech institution.
Global baseline if affiliated with about 29 schools in USA, 10 schools in CANADA, 5 schools in china and 29 in Europe. At Global baseline, we don't only send you to a college but an affordable one where you can enjoy your full scholarship.
Over the years global baseline has registered over 200 students to take the test. When it comes to registration global baseline is one of the institutions you can trust.
We charge affordable fees for our services. Click here for the list of approved fees for the year.